"The secret of getting ahead is getting started."
~Mark Twain
Hello Supporters,
Last week marked an important milestone for Las Vegas, Informa Markets, and the entire trade show and convention industry. World of Concrete returned to the Las Vegas Convention Center, the first major trade show to take place in the city after the pandemic shuttered events there more than a year ago. We now look forward to the Sweets & Snacks Expo next week in Indianapolis, and many others—as business is once again able to take place at these essential events.
While seeing events return is absolutely worthy of celebration, it is only the first step. Recent sentiment research conducted by Freeman indicates that 68% of attendees expect to return to in-person events by this fall, increasing to 74% by the winter. This is a good sign overall, but it's also dependent on several factors and differs significantly by vertical, which highlights the fact that we still have work to do in order to get our industry back on its feet.
We need to continue to build confidence among attendees and exhibitors, and we need Congress to take up and pass the Hospitality and Commerce Job Recovery Act (HCJRA). This legislation would encourage participants to return to business events, conferences, and trade shows nationwide and it already has bipartisan support, with more than 80 co-sponsors in the House alone.
As events like World of Concrete demonstrate our industry's ability to safely bring business events back, we are prepared to scale mitigation strategies as needed. We've made that fact clear through our voluntary creation and implementation of health and safety guidelines and our work with state and local health departments, through our partnership with Epistemix.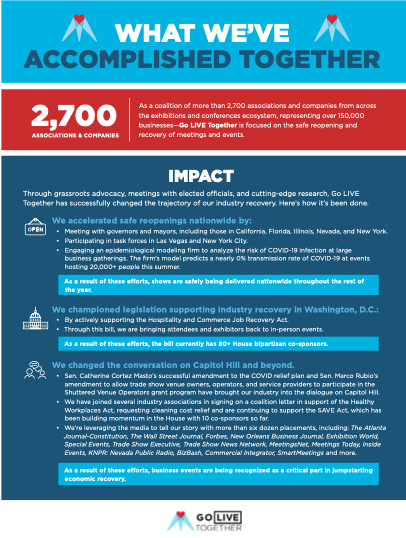 Check out an overview of everything we've accomplished together here.
The progress we've made over the last year is truly incredible, but our work is not done yet. We must keep the pressure on in order to ensure the successful return of our industry and our nation's economic recovery.
Thank you for your support, now and always. We wouldn't be where we are now without your efforts. I look forward to the day when we can say that we've officially crossed the finish line.
Stay safe and stay strong,
Sue Sung Go LIVE Together
#GoLIVETogether

Go LIVE Together is an Exhibitions & Conferences Alliance Campaign.
Follow Us or Join Our Group
Copyright © 2020 Go LIVE Together. All rights reserved.