Hello Supporters,
First of all, I want to thank those of you who participated in our grassroots letter writing campaign in support of the Hospitality and Commerce Job Recovery Act (HCJRA). You sent over 2,345 letters to your representatives and, because of your efforts, we now have close to 50 congresspeople in the House who have signed on the legislation, and it continues to gain support in the Senate. Our lobbyists and Hill experts tell us this is meaningful traction, so we cannot let up.
It is now time to activate our next phase. Our industry has always hosted a Legislative Action Day, an annual opportunity for us to make our voices heard on Capitol Hill—but this year, it's more important than ever. Please join us for the Exhibitions & Conferences Alliance's (ECA's) Legislative Action Day, held virtually June 1-2, 2021. This two-day program is designed to give you the tools you need to effectively advocate on behalf of the industry and, as a participant, you'll be scheduled in small groups for video conferences with key legislators to ask for their support of the HCJRA.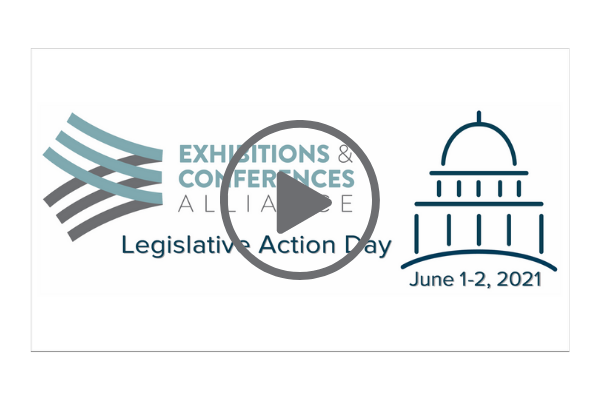 Learn more about this important legislation and what it means to the business events industry from Hervé Sedky, ECA Chair of the Board and CEO of Emerald Events, and Tommy Goodwin, ECA VP of Government Affairs, in this short video.
With (very welcome) signs of life emerging, our industry will need the restart credits provided by this legislation now more than ever. As life returns to normal across much of the U.S., we need to make sure our industry isn't forgotten, yet again. Small businesses, which are the backbone of our industry, will need the incentives provided by this bill to encourage them to return to in-person exhibitions and conferences. Organizers and venues will need help offsetting the expenses they'll incur to ensure such events can be hosted safely. Without the HCJRA, our recovery will be slower, meaning more lost business and jobs. So, please support the HCJRA—whether it's through Legislative Action Day, outreach to your congresspeople, sharing on social, or other means—our industry needs your voice to be heard.
Reopening Together
We continue to see positive strides being made toward reopening across the country. Recently, North Carolina announced plans to lift capacity and gathering restrictions on June 1. New Jersey will increase capacity limits for outdoor gatherings, large venues and catered events on May 10 and Nevada expects to reopen fully by June 1. Additionally, California has announced plans to move away from its four-tier framework of pandemic restrictions and fully reopen on June 15 (pending vaccine distribution rates and low hospitalizations) though conventions are expected to remain capped at 5,000 people through October 1, unless all attendees have been tested or show proof of vaccination. And just this week, Mayor Lightfoot announced the return of the Chicago Auto Show as part of the city's Bridge to Phase 5 of reopening.
To help propel this progress, the ECA and Go LIVE Together teams are working with government and health officials in key states—including New York, California and Illinois—to demonstrate our ability to reopen safely. By sharing the Epistemix data modeling, All Secure guidelines our industry has adopted and case studies of how controlled business events are being held safely in cities across the country, we are helping these officials understand that our events can be brought back to their states and cities now.
This industry continues to inspire me every day with its heart—a constant reminder of why we deserve to be seen and need to make sure our awesome people are heard. Despite being shut down for over a year, all aspects of the hospitality industry and the local community came together at this past week's drive-up food pantry at McCormick Place in Chicago to provide critical assistance for people who are out of work.
We are all anxiously awaiting—and actively working toward—the day when we can bring the members of our industry hardest hit by the pandemic back to work, and get the world back to business. Please help us continue our progress, by sharing your personal story during Legislative Action Day. Register by May 21 to ensure your voice is heard!
Stay safe and stay strong,
Sue Sung Go LIVE Together
#GoLIVETogether

Go LIVE Together is an Exhibitions & Conferences Alliance Campaign.