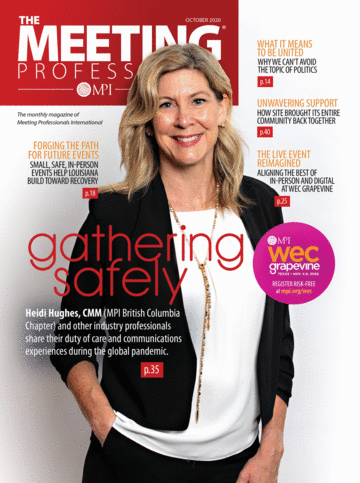 Dear Reader,
Welcome back to The Meeting Professional , brought to you through a joint partnership between IAEE and Meeting Professionals International (MPI).
This month we preview MPI's World Education Congress (WEC), "Reunite for Recovery," Nov. 3-6 in Grapevine, Texas.
While there have been instances of face-to-face gatherings amidst a slew of virtual meetings in 2020, WEC is likely one of the first education events this year to test the boundaries of a large in-person gathering. Event organizers, cognizant of the importance of health and safety, are adhering to local mandates as well as Events Industry Council and CDC recommendations. Masks and social distancing are a must as part of MPI's duty of care, while the digital experience offers a way to still be a part of WEC for those unable to attend in person. Read more in " The Live Event Reimagined ." Go to mpi.org/wec and enter code 50WECGFD for a special discount from us at The Meeting Professional .
Another must-read report is " Gathering Safely in 2020 ," which delves into how a desire to keep stakeholders safe from contagious viruses onsite is top of mind for event professionals.
In our monthly report on diversity and inclusion, Zoe Moore and Tanida Mullen, co-chairs of MPI's Diversity & Inclusion Committee, discuss how there are many topics that make us all uncomfortable—topics we are told never to discuss because of their potential to cause division, including politics. Learn more in " What It Means to Be United ."
Speaking of politics, Nov. 3 is also Election Day in the United States. Please vote.
There are several places to go for COVID-19 updates and resources, including www.iaee.com/covid19. At mpi.org/TrustedResource, you will find additional updates and resources.
We hope you enjoy this month's issue. Be safe and well during this time. Send comments to editor@mpiweb.org.
Rich Luna
Editor in Chief
rluna@mpiweb.org