Orange County Convention Center Readies for Return of Events
DANICA TORMOHLEN, EDITOR-AT-LARGE
MAY 19, 2020
*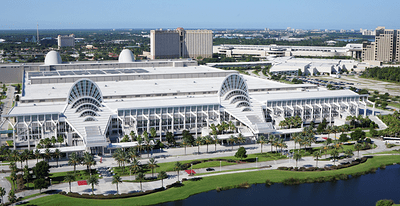 ORLANDO* — The Orange County Convention Center (OCCC) readies for its first major event, the AAU Junior National Volleyball Championships, since the COVID-19 outbreak led to cancelations and postponements from March through June.
Rescheduled for mid-July, the annual event is estimated to attract 10,000 attendees, down from 100,000 attendees in 2019 when the event generated an economic impact of more than $108 million.
As of mid-May the OCCC had 20 rescheduled conventions with an estimated economic impact of $483 million that have been moved to either later this year or to 2021. The center has received 30 convention cancellations with an estimated economic impact of $721 million.
Related. For an updated list of cancelations and postponements at OCCC, visit www.occc.net/updates
OCCC is scheduled to host a consumer show, Summer FUN 2020 , on July 9. The next B2B event, the Asian American Hotel Owners Association , is scheduled for Aug. 9-12. The event was originally scheduled for April 13-16, according the group's website . The next Gold 100 trade show on the books at OCCC is Premiere Orlando, which is rescheduled for August 30-31 from its original dates of May 31-June 1. Ranked No. 51 on the TSE Gold 100 Class of 2018, the event drew 77,275 attendees and 865 exhibiting companies covering 333,000 nsf in 2019.
After suspending events since March 12, the 47th AAU Junior National Volleyball Championships will be held at the OCCC with numerous safeguards in place to help protect participants and officials. "
The OCCC is implementing a strategic on-site preparedness plan, which includes extensive cleaning and sanitation measures to enhance daily routines already in place to promote a clean and healthy environment. More details on the sanitation strategy can be found HERE .
While the center was never closed, the OCCC Executive Team is ramping up to ensure business continuity to support its community. "Staff will begin staggered schedules this week as we start to incorporate Phase 1 of the OCCC's Recovery and Resiliency Guidelines , a phased plan as we continue to monitor policy changes from the Centers for Disease Control and Prevention (CDC), Orange County's Economic Recovery Task Force , state and federal mandates ," said OCCC Executive Director Mark Tester. "These guidelines were created by the OCCC's Recovery and Resiliency Committee to keep our guests, employees, and community safe as we incrementally host modified events."
Related. OCCC to Receive GBAC Star Accreditation; Launches Safety Guidelines as Show Return
"Our events in July will allow us to bring back a meaningful portion of our workforce to the OCCC," Tester said. "We will assess our business operations after that event, and we are hopeful that we will continue a rebound in the late summer and fall months , as we emerge on the other side of this crisis."
With the support of the tourism, leisure and hospitality sectors, Orlando is positioned to welcome visitors back to the city. On May 14. Universal Orlando reopened part of its resort. Disney Springs will begin a phased reopening on May 20, but other areas of Walt Disney World Resort remain closed.
"We care deeply about our employees, community, business partners, stakeholders and guests," Tester said. "In the face of this unprecedented situation, the OCCC remains committed to doing what's right. That said, there is a lot of work left to do, but we have faith that we are up to the challenge. By working together and supporting one another, we will come through this a stronger and more united community."
Reach Mark Tester at (407) 685-9800 or info@occc.net.
https://www.tradeshowexecutive.com/archive/industry-news/orange-county-convention-center-readies-return-events/