We are in the home stretch of 2020. Uncertainty about the future can be overwhelming and exhausting. Let us help - we have created resources to help navigate these unchartered and choppy waters. Let's move forward with confidence into 2021…starting now.
Planning Your Next Face-to-Face Event?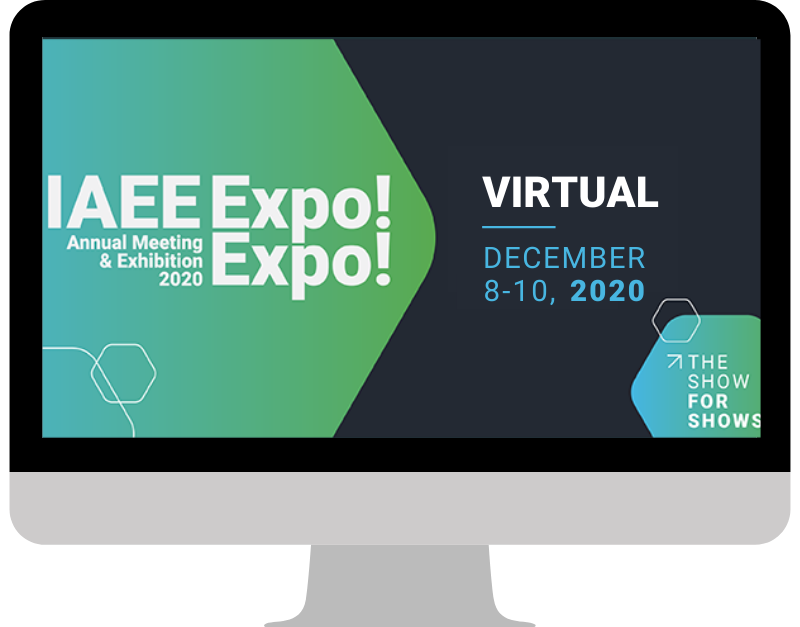 Expo! Expo! Virtual 8-10 December 2020
With a robust marketplace and five content tracks over three days, Expo! Expo! will provide show organizers with the products, services and tools needed to effectively plan and prepare for events in 2021 and beyond.
IAEE has teamed with ISSA, the worldwide cleaning industry association, to help exhibitions and events professionals safely and effectively return to the face-to-face business environment amid the challenges presented by COVID-19, as well as other infectious diseases, through a training course designed to prepare for, respond to and recover from biohazards in the workplace.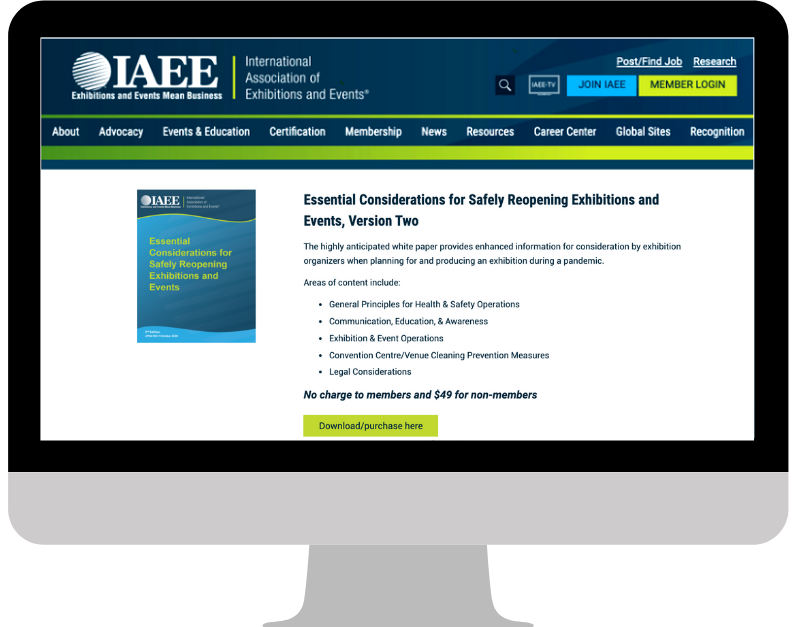 Essential Considerations for Safely Reopening Exhibitions and Events
This comprehensive document, available at NO CHARGE to IAEE members, provides general information for consideration by exhibition organizers when planning for and producing an exhibition during a pandemic. Areas of content include:
General Principles for Health & Safety Operations
Communication, Education & Awareness
Exhibition & Event Operations
Convention Centre/Venue Cleaning Prevention Measures
Legal Considerations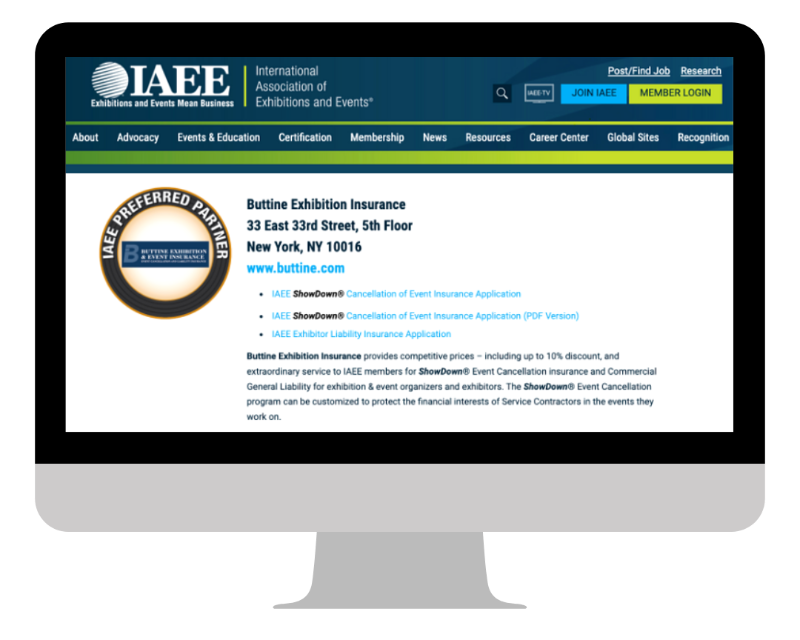 IAEE ShowDown® Event Cancellation Insurance
This specialty product by Buttine Insurance has the most competitive premium rates in the cancellation event market.
Provides financial security to show organizers of all sizes with the ability to insure 36 months in the future.

There is coverage for loss due to terrorism and traditional perils including civil commotion, adverse weather and venue fires or water damage.

The ShowDown program does NOT have "blanket exclusions" for losses due to riots and civil commotion. Underwriters will review each application before adding such an exclusion.

Proposals for all insurance are available using online applications or by calling Buttine.

Show Organizers and Exhibitors can purchase liability for one or multiple exhibitions and events.

Buttine has over 30 years of experience in providing insurance to exhibitions and events and to companies in the media business. Risk management and consulting is available as a service to IAEE members.
Brought to you by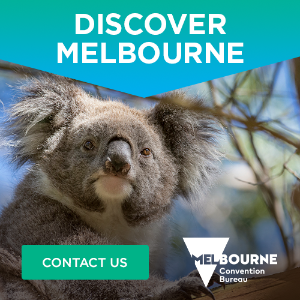 Looking to Go Virtual and Other Tech Solutions?
Don't know where to begin when selecting a platform for your first or next virtual event? We've created the foundation for you. Download the virtual event RFP we used when vetting platforms for Expo! Expo! Virtual taking place this 8-10 December.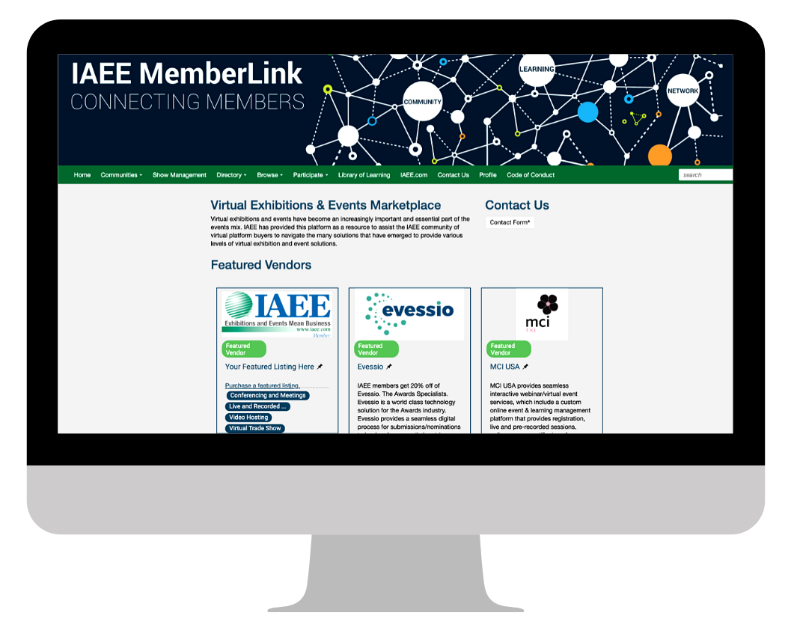 Virtual Exhibitions and Events Marketplace (VEEM)
Located in MemberLink, we have created a marketplace for IAEE organizers to review all suppliers that offer virtual event solutions in:
Virtual Trade Show
Conferencing and Meetings
Video Hosting
Live and Recorded Streaming
This shared collection of emerging technology solution use cases, that have been proven in the exhibitions and events marketplace, aim to give exhibition and event producers an opportunity to explore a wide range of solutions that answer the challenge in the following key areas as identified by the IAEE Technologies Committee:
Attendee Experience & Engagement; Back of House (Venue Related Tech); Lead Generation (ROI); Learning Technology; Marketing (Attendee Acquisition); Networking; Revenue Creation; Security & Compliance; and Sponsorships.
Need Community Support?
Your organizer community is coming to MemberLink for guidance and support. The Show Management Community is available only for show organizers and offers multiple discussion topics on an almost daily basis.
Top discussions in the Show Management Community right now include:
Updating your GSC agreement
Virtual Exhibitor benefits
Hybrid and Virtual Meetings Exhibit & Sponsorship Contracts
IAEE is here for you. Any of our staff are available to assist you.
Nicole Bowman, MBA VP of Marketing & Communications nbowman@iaee.com
Cathy Breden, CMP, CAE, CEM COO & EVP cbreden@iaee.com
Lisa Buchanan Director of Membership & Chapter Relations lbuchanan@iaee.com
Scott Craighead, CEM VP of Exhibitions & Events scraighead@iaee.com
Marsha Flanagan, M.Ed. VP of Learning Experiences mflanagan@iaee.com
Rick Jennings, CEM VP of Partnership Relations rjennings@iaee.com