First Virtual IAEE Women's Leadership Forum A Great Success
Nancy Walsh Named 2020 Woman of Achievement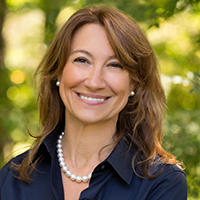 DALLAS, 10 September 2020 – The International Association of Exhibitions and Events® ( IAEE ) celebrates the successful completion of its first fully virtual Women's Leadership Forum held 9 September 2020, which featured education sessions for women at all stages of their career.
"Since its inception in 2013, the Women's Leadership Forum has become a must-attend event for industry professionals seeking a deeper level of inspiration and motivation that they can use both personally and professionally to take their career to the next level," said IAEE Executive Vice President & COO Cathy Breden, CMP, CAE, CEM. "The program is tailored to the unique perspective that women bring to the industry and offers powerful tools delivered by dynamic presenters from diverse areas of expertise."
This year's program included the following sessions ( click here for complete details):
Truths Female Leaders Need to Know
Innovation is Everybody's Business: How to Be the Innovator and Leader Your Team and Clients Need When Times Are Uncertain
Cultivating Connectivity, One Step at a Time
BrainSHIFT: Mindful Leaders Rise Above the Panic
The program also included the announcement of Nancy Walsh, President of the Fashion Portfolio for Informa Markets, as the recipient of the 2020 IAEE Woman of Achievement Award . Walsh joined Informa Markets in January 2020 to head up the company's Fashion business. She joined Informa from Freeman, where she held the position of Senior Vice President of Brand Experience, designing new brand experiences for customers. Before that, Walsh had a 32-year career with Reed Exhibitions, working her way up to President – North America, where she led shows in the retail space. Informa Markets' Fashion business includes leading brands such as MAGIC, COTERIE, PROJECT and PROJECT WOMENS.
"Nancy's career has been an outstanding exercise in professionalism, dedication and accomplishment that deserves recognition on many levels," noted IAEE Awards Committee Chairperson Kellie Shevlin, CEM, Executive Director, Craft Beverage Expo. "As a woman in the exhibitions and events industry, she acts as a role model for future female leaders of our industry to emulate, and she embodies the merits that the IAEE Woman of Achievement Award is intended to honor."
"I am extremely humbled and incredibly honored to be chosen for this award, now standing alongside a list of admirable and notable previous recipients for this award," said Walsh. "Over the course of my career, I have had the great pleasure and opportunity to work alongside brilliant leaders, both women and men, as well as lead many incredible teams, driven by innovation and inspired by the creativity that teamwork can spark. By approaching each day and each project with wholehearted dedication, open-mindedness and collaboration, anything is possible.
"I wouldn't be where I am today without these elements of success. Receiving this award is further icing on an already wonderful cake; so, with that said, I also want to thank IAEE for its continued support in connecting our global trade community. IAEE has always been an extremely valuable resource and provides a wealth of opportunities for its members and its community."
IAEE extends a special thank you to the partners of this year's IAEE Women's Leadership Forum:
Emerald Partners
Synchronicities (Visit Anaheim, Visit Baltimore, Visit San Antonio)
Ruby Partner
Choose Chicago
Pearl Partners
CORT Event Furnishings
Smart City Networks
Visit Dallas
Visit Indy
Supporting Partners
Conferences I/O
Discover Puerto Rico
Host Partner
Lansdowne Resort and Spa
Breakfast Partners
Business Events Montréal
Destination Toronto
Tourism Vancouver
Registration & Virtual Platform Provider
Streampoint Solutions
Travel Kit Partner
Professional Marketing Services, Inc. (PMSI)
Video Partner
Convention News Television (CNTV)
About IAEE
Trusted since 1928, IAEE provides quality and value to its members through leadership, service, education and strong relationships. IAEE is the largest association of the exhibitions and events industry in the world, with a membership of show organizers, exhibitors and exhibition suppliers. Organizers of more than 20,000 exhibitions and buyer-seller events around the world are members of IAEE, and the organization advocates and promotes the awareness of face-to-face exhibitions and events as the primary medium for business development and growth. IAEE provides relevant, timely, and innovative education to its members and the industry. IAEE recognizes its strategic partners: 4imprint, BearCom, Buttine Exhibition Insurance, Convention News Television (CNTV), New Orleans & Company, New Orleans Ernest N. Morial Convention Center, Personify – A2Z Events, Streampoint Solutions and Synchronicities (Visit Anaheim, Visit Baltimore and Visit San Antonio). Visit www.iaee.com for more information.
###
Media Inquiries:
Mary Tucker
Sr. PR/Communications Manager
+1 (972) 687-9226
mtucker@iaee.com