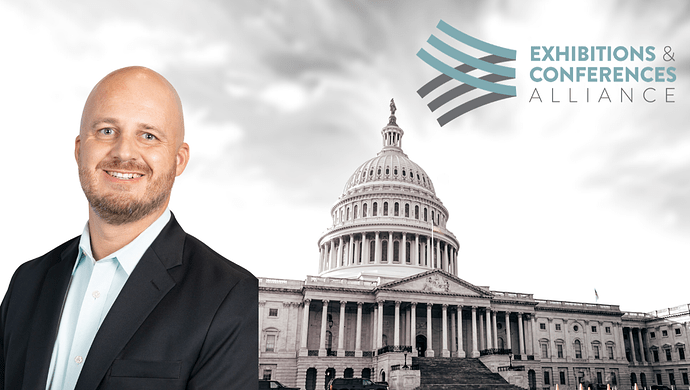 The Exhibitions and Conferences Alliance (ECA) today announced that Thomas F. "Tommy" Goodwin has been named vice president of government affairs. As an integral member of ECA's leadership team, Goodwin will help execute the newly formed advocacy group's mission—to increase awareness of live business events' impact on economies and job creation among policymakers while advocating for the industry's common interests in order to maintain a favorable operating environment within the United States.
"Tommy has a proven track record for helping mission-driven organizations like ours make their voices heard, and that's exactly what we need, right now and in the long-term" said David Audrain, CEM, Executive Director of the Society of Independent Show Organizers (SISO) and co-president of ECA.
Goodwin brings more than 20 years of experience leading a wide range of government relations, public affairs, and issue advocacy efforts for several globally recognized associations and corporations, including Oracle Corp., AARP, and the Project Management Institute (PMI). Additionally, he was a research fellow at Harvard Business School focused on the international political and legal environment in which business operates.
Recognized by The Hill in its 2020 list of association "Top Lobbyists", Goodwin hasa B.B.A. from The George Washington University, an M.B.A. from Auburn University, and a Postgraduate Diploma in European Union Law from King's College London. He also holds a Certified Association Executive designation from the American Society of Association Executives (ASAE) and a Project Management Professional certification from PMI. He currently serves as President of the National Institute of Lobbying & Ethics and the Immediate Past Chair of ASAE's Government Relations and Advocacy Professionals Advisory Council.
"The current crisis has shown us that advocacy must be an ongoing endeavor. Tommy will be a key player in creating the common ground with lawmakers that's essential to our ability to accomplish our immediate goals, as well as continue to elevate our industry's profile," added David DuBois, CMP, CAE, FASAE, CTA,President & CEO of the International Association of Exhibitions and Events(IAEE) and co-president of ECA.
"I'm honored to be part of an association as dedicated to the recovery and advancement of the business events industry as ECA," said Goodwin. "What many fail to realize is that the 'business events industry' isn't just a singular industry—it touches just about every industry out there. Conferences, expositions and trade shows are catalysts for economic growth and innovation.They provide millions of jobs directly, serve as powerful platforms for small businesses and drive billions of dollars in spending on hotels, restaurants and Main Street commerce. I look forward to amplifying that message on the Hill andbeyond."
Last week, ECA announced that its organizational structure will allow for the development of new advocacy campaigns as specific needs arise in the future.However, existing advocacy initiatives Go LIVE Together and Exhibitions Mean Business are continuing under ECA and carrying out their respective missions—Go LIVE Together in advocating for federal COVID-19 recovery funding and Exhibitions Mean Business in promoting the value of face-to-face and the economic impact of exhibitions at the local, state and national levels.
For more information about ECA and its initiatives, visit www.exhibitionsconferencesalliance.org.
‍######
AboutExhibitions and Conferences Alliance (ECA):
The Exhibitions and Conferences Alliance (ECA) represents the common interests of the U.S. exhibitions and conferences industry to legislators. A coalition of eight industry associations, ECA promotes the impact of the sector, drives general industry awareness, initiates legislation on behalf of business events, advocates for the industry's common interests,and works with partners globally as needed, in order to maintain a favorable operating environment within the United States. For more information, please visit www.exhibitionsconferencesalliance.org or contact tommy.goodwin@ecalliance.us, david@siso.org or ddubois@iaee.com. For information specific to Go LIVE Together, visit www.golivetogether.com or contact sue@golivetogether.com.