GABRIELLE WEISS, VICE PRESIDENT & EDITOR-IN-CHIEF
MAY 23, 2020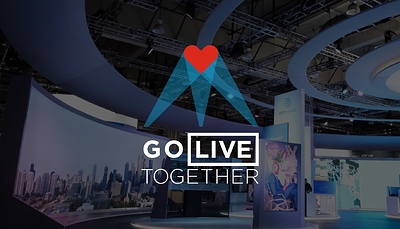 DALLAS – In mid-April, Freeman spearheaded the launch of Go LIVE Together (GLT). Backed by 80 founding members from 113 countries, the online resource is now an established rallying point for trade show professionals and their counterparts to support industries around the world. To date, the initiative has more than 2,000 participating companies and individuals, and the list is growing.
Related. Freeman Launches Go LIVE Together Coalition
The collaborative nature of GLT aids one of its objectives, which is to overcome the deeply felt impact of the COVID-19 pandemic on the industry. According to the Center for Exhibition Industry Research (CEIR), the pandemic's economic impact could surpass $3 billion in losses to show revenue and $22 billion to the U.S. economy. Furthermore, the standstill caused by the shutdown associated with the outbreak has led to a severe uptick in furloughs and unemployment industrywide.
"We support the Go LIVE Together coalition because of the important role it is playing in helping to accelerate the recovery of the trade show industry post COVID-19," said Hervé Sedky, President, Reed Exhibitions Americas, RELX Group. "Trade shows and exhibitions create marketplaces that enable small and medium-sized businesses to grow and thrive. These important business events will play a key role in promoting economic recovery after the COVID-19 pandemic."
The GLT list of supporters goes far beyond organizers and includes companies from general service contractors to laborers.
"Fern has long focused on being a good industry citizen, and there was no question about joining any unifying effort to confront the impacts of this pandemic," said Aaron Bludworth, Chief Executive Officer, Fern Expo, which was founded in 1909. "Fortunately, we are in an industry that has a long history of pulling together, and our industry associations have effectively worked together to jointly tackle issues and work for the promotion and betterment of live events as a whole and the individual organizations that comprise it. Go LIVE Together is an opportunity to continue those traditions with larger participation, on an emergency basis and with speed unprecedented circumstances require.
Business continuity and risk mitigation is viewed as playing a critical role by those signing up to support the initiative.
"When we learned about Go LIVE Together, we recognized it included a good mix of organizations involved in the trade show and conventions industry — not just contractors, but facilities too," said Tommy Blitsch, Director, Convention, Trade Show and Casino Division of International Brotherhood of Teamsters which represents about ten thousand members across America. "We know that a collective approach is going to make a difference and the initiative gives us that platform. We have a vested interest in getting this right and doing that safely when we return to work. That's why it's even more important that we are all on the same page as we work through the impacts of the pandemic on the industry."
Industry experts agree that safety must come first. From ISSA's GBAC STAR™ accreditation program to proposed frameworks for show management. Teams of people representing diverse disciplines like logistics, digital experiences and microbial-pathogenic threat analysis are coming together to solve issues related to safety and legislation for the industry.
Related. Combating COVID at Trade Show and Event Facilities with ISSA's GBAC STAR™ Program
Related. UFI Publishes Framework and Guidance for Unified Approach to Safely Reopen Trade Shows
Formal advocacy efforts are taking shape as the coalition grows. The Society of Independent Organizers Board of Directors recently approved a substantial donation for lobbying Congress with other industry organizations quick to follow.
"The Exhibitions Mean Business(EMB) campaign, managed by IAEE, supports the Go LIVE Together Coalition's efforts in creating a lobbying effort in D.C. by contributing $50,000 to this initiative," said IAEE President and CEO, David DuBois, CMP, CAE, FASAE, CTA. "EMB has worked for the past seven years to build relationships in Congress through Exhibitions Day and adding this lobbying effort to the collective voice of the industry will only make us stronger as an ecosystem once we get back to the business of live events," added DuBois.
Related . SISO Pledges $250,000 to Support Go LIVE Together's Advocacy Efforts
As far as the next steps for GLT? We know legislators are going to author a bill focused on recovery, and it may be ready before Independence Day, Freeman told TSE.
"Our goal is to ensure our industry needs and business incentives to accelerate recovery are in that bill," said Sue Sung Vice President of Corporate Strategy at Freeman. We are currently working on language and when the time is right will unleash our coalition to advocate for it."
Editor's note: Trade Show Executive fully supports and is a proud founding member of GLT, which also has included our legislative initiative Trade Show & Event Recovery Act into their overall efforts. Read more: https://www.golivetogether.com/trade-show-events-recovery-act
Join the coalition at www.GoLiveTogether.com or email info@golivetogether.com .
Reach Hervé Sedky at (203) 840-5800 or hsedky@reedexpo.com; Aaron Bludworth at (513) 562-0432 or abludworth@fernexpo.com; Tommy Blitsch at (702) 430.5010 or tommyb@teamsters631.com; Sue Sung at Sue.Sung@freemanco.com.