Leaders from across the exhibition, meetings and events industry have an unwavering commitment, resilient confidence and a resolve to unite together for our customers as the industry roars back. Hear how unprecedented collaboration has uncovered new solutions.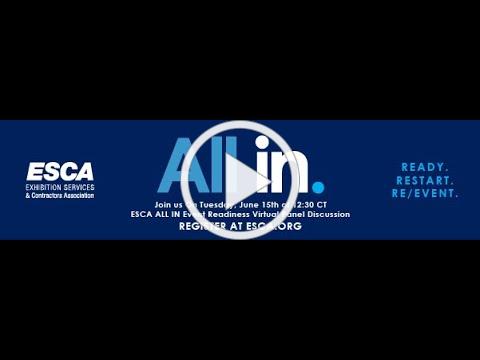 READY
How Are We Prepared?
Skilled Workforce Ready to Go
Hospitality Community Open and Hiring
More Experienced Contractor Staff Returning
RESTART
Why Change Now?
New Hiring Processes Working
Scaling for Balance
Leverage Technology to Meet Demands
RE/EVENT
What is New and Different?
Collaboration Across Event Industry Sectors
Supplemental Agreements, New Union Communications
Flexibility From Venues
Contractors Working Together, Resource Sharing
Join us On Tuesday, June 15th at 12:30 CT
ESCA ALL IN Event Readiness Virtual Panel Discussion