Keep the momentum going.
Positive news is coming at us from all directions. As the Exhibitions and Conferences Alliance prepares for Legislative Action Day, momentum is on our side.
Our top priority for legislative outreach right now focuses on our industry's recovery and jobs. Section 2 of the Hospitality and Commerce Job Recovery Act (S.477/H.R. 1346) brings jobs back by providing recovery measures for the convention and trade show industries and their workers through restart credits. Learn more about the bill here.
In the past two weeks alone, we've seen co-sponsors for this bill increase from 46 to 74 in the House. We need more support, and the best way to get that is to educate and connect with legislators.
That's exactly what we plan to do on June 1-2. On June 1 , we will host a program that is designed to give you the tools you need to effectively advocate on behalf of the industry. Who to contact, how to contact and what to say. This program will be hosted online and is open to all, at no cost .
Watch this short video with Nicole Bowman, MBA, Tommy Goodwin, and Megan Tanel, CEM as they talk about the importance of advocacy, why your voice matters and how you can get involved!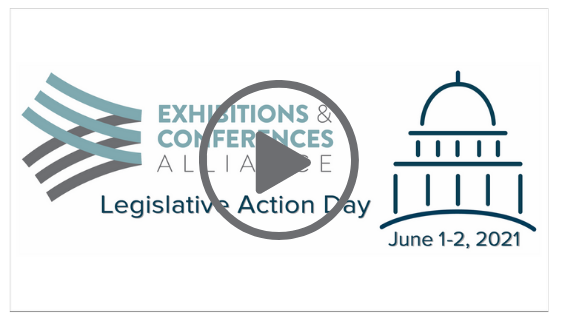 We need this bill. Our industry needs support. We need all of our voices.
On June 2 , we will break into smaller groups by state for in-depth video conferences with key legislators . Each group will have designated spokespeople and we will provide training, a script and talking points. Whether you are new to advocacy or a seasoned pro, we invite you to participate in these important meetings.
You can sign up for one or both days here . We are setting up the June 2 video conferences now, and will need all attendees to register by May 21, 2021 !
Don't miss this opportunity to speak your voice, share our story, and bring back those jobs.
If you are already signed up, please forward this to your colleagues - we need all hands on deck to make our voice as strong as possible!
Contact us with questions!
Nicole Bowman, MBA
Executive Director, Exhibitions Mean Business
E nbowman@iaee.com
Tommy Goodwin
VP, Government Affairs, ECA
E tommy.goodwin@ecalliance.us