CEIR Announces 2021 Second Quarter Results
B2B Exhibition Industry Improved in Q2 2021
DALLAS, 23 September 2021 – The Center for Exhibition Industry Research ( CEIR ) reports that the U.S. business-to-business (B2B) exhibitions industry improved significantly in the second quarter of 2021 from the previous four quarters as cancellation rates of the physical events dropped to 66.5% from 90.4% in the first quarter 2021. About 98% of exhibitions were cancelled during the second half of 2020.
As a result of fewer cancellations, the CEIR Total Index, a measure of exhibition industry performance, improved from a decline of about 94% from 2019 in Q1 2021 to a decline of 79.1% from 2019 in Q2 2021. The performance of the U.S. economy was far better, registering a moderate 2.0% increase in real (inflation-adjusted) GDP from Q2 2019. It increased at an annual rate of 6.6% from the previous quarter, attributable to increases in personal consumption expenditures, nonresidential fixed investment, exports, and state and local government spending that were partly offset by increases in imports and decreases in private inventory investment, residential fixed investment and federal government spending.
Figure 1: Real GDP vs. CEIR Total Index, Q1 2020 - Q2 2021, % Change from 2019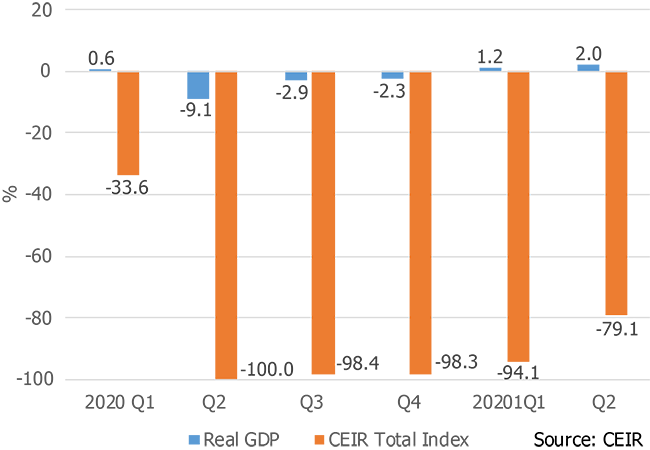 Among cancelled events in Q2 2021, 82% of events pivoted to produce digital events, compared to 75% in Q1 2021. All events held in the second quarter of 2020 cancelled, making comparison of Q2 2021 performance results to Q2 2020 results not possible. Thus, completed events in the second quarter of 2021 are compared with those in the second quarter of 2019. Excluding cancelled events, the Total Index for completed events in Q2 2021 dropped by 37.6% from 2019 (Figure 2), compared to a decline of 54.5% from 2019 in Q1 2021. All exhibition metrics for completed events in Q2 improved from Q1 even though all metrics still posted sharp declines from 2019. Attendees suffered the largest fall of 48.8%, followed by Real Revenues plunging by 47.3%. Exhibitors decreased 31.6% whereas Net Square Feet (NSF) tumbled 17.9% from the second quarter of 2019.
Figure 2: Q2 2021 CEIR Metrics for the Overall Exhibition Industry Excluding Cancellations, % Change from Q2 2019


The U.S. economy has been growing since May 2020. With a sharp rebound in the third quarter of 2020 and a continued recovery through the second quarter of 2021, real GDP in Q2 2021 exceeded its peak in the fourth quarter of 2019 by 0.8%.
Delta infections have dampened economic activities during the third quarter of 2021. However, Johns Hopkins' COVID-19 data shows that the seven-day moving average of new cases appears to have passed the recent peak. In a sweeping attempt to contain the latest surge of COVID-19, on 9 September, President Joe Biden imposed stringent new vaccine rules on federal workers, health care staff and large employers with 100 or more employees. The new requirements could apply to as many as 100 million Americans, close to two-thirds of the American workforce. Furthermore, many large gathering venues require proof of vaccinations or negative COVID-19 tests.
"Because of those new initiatives, economic activities should continue at a robust pace with real GDP growth at a seasonally adjusted annual rate of over 5% during the second half of the year, and the B2B exhibition cancellation rate should decline further," said CEIR Economist, Dr. Allen Shaw, Chief Economist for Global Economic Consulting Associates, Inc.
"With more vaccine mandates and safety measures implemented at large gatherings, and with a majority of the population vaccinated, the recovery of B2B exhibitions should begin by the fourth quarter of this year and gain momentum in 2022," added CEIR CEO Cathy Breden, CMP, CAE, CEM.
The Center for Exhibition Industry Research (CEIR) has released the 2021 CEIR Index Report , which analyzes the 2020 exhibition industry performance and provides an economic and exhibition industry outlook for the next three years. CEIR collects data directly from exhibition organizers and urges those who do not provide their show data to do so. The annual CEIR Index Report for their shows' market sector will be provided at no cost. Click here for information on how to purchase the complete 2021 CEIR Index Report as well as individual sector reports.
About CEIR
The Center for Exhibition Industry Research (CEIR) serves to advance the growth, awareness and value of exhibitions and other face-to-face marketing events by producing and delivering knowledge-based research tools that enable stakeholder organizations to enhance their ability to meet current and emerging customer needs, improve their business performance and strengthen their competitive position. For additional information, visit www.ceir.org .
###
Media Inquiries:
Mary Tucker
Sr. PR/Communications Manager
+1 (972) 687-9226
mtucker@ceir.org