CEIR Releases New Global Virtual Event Trends Case Studies
Real World Applications and Findings from Landmark Research Series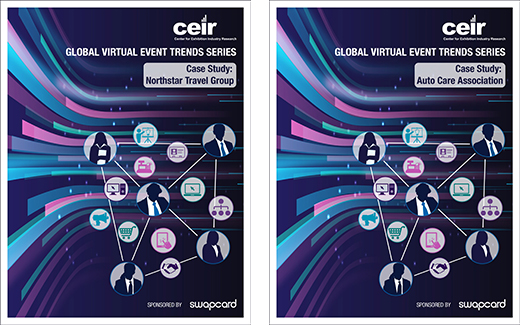 DALLAS, 12 August 2021 – Today, the Center for Exhibition Industry Research ( CEIR ) released two additional case studies from its Global Virtual Event Trends series, sponsored by Swapcard , that examines insights among organizations that traditionally run or manage in-person business-to-business (B2B) exhibitions that pivoted to producing virtual events due to constraints and regulations imposed by the COVID-19 pandemic.
The newest additions to the series, Case Study: North Star Travel Group and Case Study: Auto Care Association provide real world examples of how each organization adapted its events to the effects of the COVID-19 pandemic, the results of their strategies and valuable lessons learned throughout the process.
"Both case studies offer unique perspectives," said CEIR Vice President of Research Nancy Drapeau, PRC. "Northstar Travel's CEO discusses the organization's multichannel product mix and how it has been used to strategic advantage. The Auto Care Association's approach was intentionally narrow, generating positive benefits for future attendee acquisition efforts, impactful product demonstration opportunities for exhibitors and strengthening member connection with the organization."
Reports in the series include:
Previously released case studies detailing real world applications and findings include:
Through the generous financial support from Swapcard , CEIR's Global Virtual Event Trends series reports are available to the industry at no cost from CEIR's website. The survey for the series fielded in October 2020. It was multilingual, giving respondents the choice of completing the survey in English, Spanish, Portuguese or Arabic.
"This research was made possible through the collaboration and support from over a dozen organizations who produce B2B exhibitions and/or represent the global B2B exhibitions industry," noted CEIR CEO Cathy Breden, CMP, CAE, CEM. "CEIR is grateful to all who participated for enabling us to provide insights based on objective, unbiased research that will help members of our industry confidently move forward with their own strategies."
The sample was generated via the participation of multiple organizations globally, which invited qualified members and contacts to participate in this initiative. CEIR is thankful for their generous support that made this research and reports for the global B2B exhibitions industry possible. These organizations include:
American Society of Association Executives (ASAE)
Association of African Exhibition Organizers (AAXO)
Canadian Association of Exposition Management (CAEM)
Federación de Entidades Organizadoras de Congresos y Afines de América Latina (COCAL)
Healthcare Convention & Exhibitors Association (HCEA)
International Association of Exhibitions and Events (IAEE)
IAEE MENA Chapter
Philippine Association of Convention/Exhibition Organizers and Suppliers Inc. (PACEOS)
Singapore Association of Convention & Exhibition Organisers & Suppliers (SACEOS)
Society of Independent Show Organizers (SISO)
Trade Fair Times, India
Informa Mexico
União Brasileira dos Promotores Feiras (UBRAFE)
A total of 463 executives responded to the invitation to participate in the study, of which 346 were qualified to participate and completed the survey. The response rate is seven percent, and total percentage results provide statistically reliable results of plus or minus five percent or better, at the 95% interval.
Click here to download reports from CEIR's Global Virtual Event Trends series at no cost and continue to follow CEIR for more real-world case studies to be published soon.
About CEIR
The Center for Exhibition Industry Research (CEIR) serves to advance the growth, awareness and value of exhibitions and other face-to-face marketing events by producing and delivering knowledge-based research tools that enable stakeholder organizations to enhance their ability to meet current and emerging customer needs, improve their business performance and strengthen their competitive position. For additional information, visit www.ceir.org .
###
Media Inquiries:
Mary Tucker
Sr. PR/Communications Manager
+1 (972) 687-9226