From virtual queuing solutions to contact-less temperature checks to social distance-enforcing wristbands, this new technology can keep attendees safe during COVID-19.
NOVEMBER 11, 2020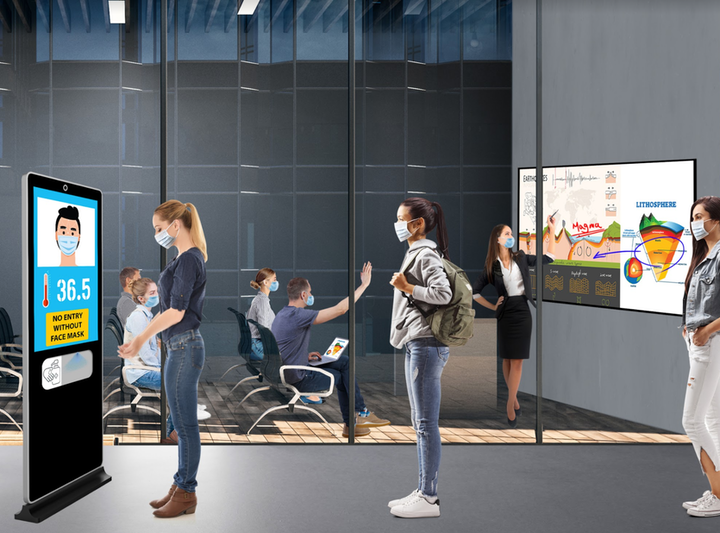 LG Business Solutions' new wellness kiosks aim to ease communication and limit unnecessary interaction between event attendees and wellness staff.
Photo: Courtesy of LG
Technology plays a crucial role in our new normal—and that goes well beyond virtual event platforms. As in-person gatherings plan their return, new tech tools are being developed to help keep attendees safe before, during, and after the event. These innovative new tools range from comprehensive planning platforms to solutions for virtual queuing and contact tracing, from social distancing-enforcing wristbands to robots (yes, you read that right). Here are five ways to utilize these tools at your next live event.
1. For pre-event planning and organization
While event booking and management software is nothing new, a number of companies have expanded their offerings during COVID-19 in an effort to reduce the time spent on-site. Last month, for example, event management platform Tripleseat launched DirectBook, a seamless, contact-free way to plan an event from start to finish. Restaurants, hotels, and venues can add DirectBook to their websites, and customers can complete the entire process—including choosing a room, selecting a menu, and making payments—from home.
"It seems every market has a way to directly book an appointment, airplane ticket, movie tickets, hotel room, etcetera—except for restaurants and hotels when it comes to booking an event or catering," explains Tripleseat CEO Jonathan Morse. "By creating DirectBook, a first-of-its-kind way to book events or catering without having to submit a lead and wait for a response, venues can increase their sales and streamline the booking process even further."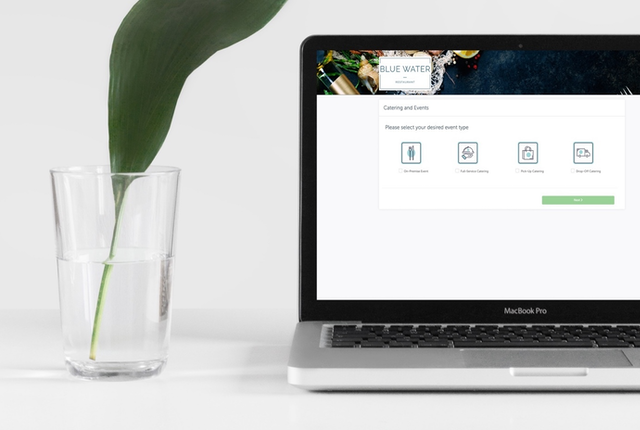 Tripleseat's new DirectBook aims to streamline the booking and planning process for both the customer and the venue.Photo: Courtesy of Tripleseat
Looking specifically for some floorplan help? Event-planning software company AllSeated has launched a new physical distancing tool for mapping out socially distanced event layouts. The digital tool allows planners to easily measure seating distances, space out sanitary stations, and more, and can quickly be adjusted based on country, state, or local government regulations. Click here to see how it works.
Hotels, meanwhile, can stay organized with Nuvola . The tech company, which focuses on software for hotel optimization and guest engagement, has launched two free tools to help hotels open safely. "Checklists" is a customizable solution that streamlines a hotel's safety protocols and cleaning measures; hotels can select a preexisting list or upload their own checklist, and share with all staff members and supervisors. "Checkpoints," meanwhile, allows a hotel to schedule and track cleanings using a contactless QR code. The two modules are available for free until the end of 2020.
2. To facilitate a smooth and safe check-in process
Registration and check-in are arguably one of the biggest pain points during COVID-19. Between taking temperatures, having guests sign waivers, and gathering information for contact tracing, it can be hard to enforce social distancing when lines get backed up.
One solution? GoGuide , a comprehensive new tech solution that facilitates virtual queuing, social distancing, and contact tracing at venues of all types that is currently in customer trials. Developed by Thornton Tomasetti in partnership with PMY, Intel, and Hewlett Packard Enterprise, GoGuide uses Bluetooth tech and RFID tags to keep guests safe in a variety of ways—like by sending out designated arrival times and entry locations to prevent crowds, or by using vision recognition tech to identify patrons who are not wearing masks properly so they can be sent a notification.
Another new crowd-management solution comes from tech company Waitwhile , which offers a cloud-based line-management platform called Spot Holder. The tech was recently introduced at Brookfield Properties' retail stores in Las Vegas, but can also be a logical option for events. How it works: Guests join a virtual waitlist by providing their name and phone number, and then are able to track their place in line remotely. When it's time to return to the venue, Spot Holder sends a notification to the phone number provided. A bonus? The tech has a capacity-management feature that keeps a tally of people entering and exiting, so you can be sure not to surpass capacity restrictions.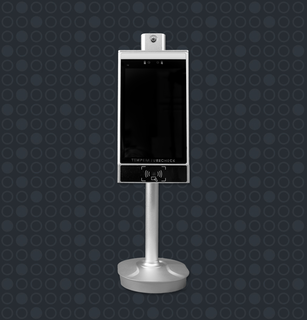 Temperature Check devices utilize infrared technology to scan and measure the temperature of a person's skin within two seconds.Photo: Courtesy of Pike ProductionsMeanwhile, a number of companies have focused on seamless temperature-taking solutions, like Pike Productions ' Temperature Check, a hands-free thermal temperature-checking solution. Founder Bruce Pike thinks that holding an oddly shaped thermometer up to a guest's forehead is no way to greet them. "If we intend on creating fun and inviting atmospheres for our client's events, then the way temperatures are taken need to change," he told BizBash in September. Temperature Check's four products—which come in the form of floor stands, desktop stands, or wall mounts—utilize infrared technology to scan and measure the temperature of a person's skin within two seconds.
Another solution comes from LG Business Solutions , which in July debuted its new wellness kiosks. The upright, rectangular displays include a thermal scanner for temperature readings, a motion-activation hand sanitizer dispenser, and options to provide necessary information to event attendees. The kiosks can also track when attendees enter and exit an event—reducing the need for check-in staff—and details on bathroom occupancy and cleaning status.
3. To reduce the number of staffers on site
Looking for more ways to reduce the number of staffers at your event? Consider using a chatbot from a company like 42Chat (formerly known as Sciens.io). The AI-driven bots, which BizBash has used at our own events, can serve as a virtual concierge, able to help attendees find the location of sessions, the Wi-Fi password, speaker bios, meal times, and more. Bots can operate through Facebook Messenger, text messaging, or be integrated into event websites and apps, and they can be used to share images, videos, GPS locations, polls, and more.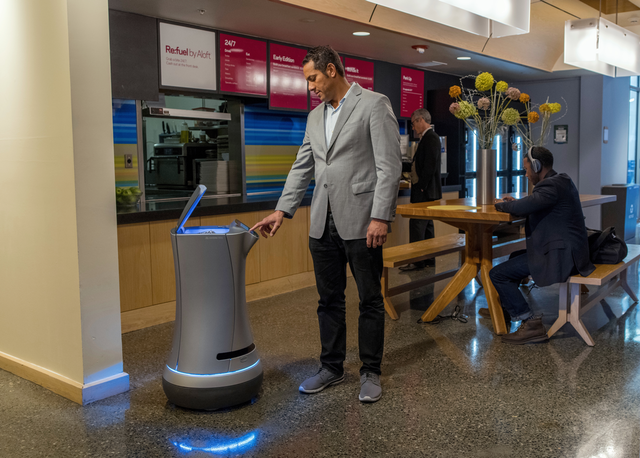 Each hotel chooses its own name for the robot and has the ability to wrap it to their liking. At Aloft Hotels, for example, the robot is named Botlr (pictured).Photo: Courtesy of SaviokeWant to deliver food or materials to your guests but avoid contact? Enter: Relay, a service robot from Savioke that has seen increased demand by hotels during the pandemic. The bots can facilitate contact-less deliveries of everything from food and beverage to linens to event materials, and even handle check-in/check-out services. The robot can also operate elevators and navigate crowds. Each hotel chooses its own name for the robot and has the ability to wrap it to their liking.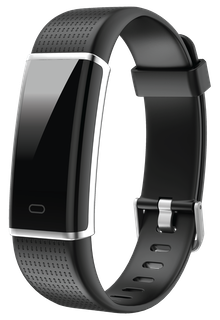 Proxxi's Contact wristbands vibrate when they come within six feet of another band, subtly reminding event attendees to keep their distance.Photo: Courtesy of Proxxi
4. To help enforce social distancing
The biggest challenge of an in-person event during COVID-19? Actually getting guests to enforce the rules. A number of companies have introduced clever solutions—such as Contact, a wearable, Bluetooth-driven wristband from technology company Proxxi that briefly vibrates when it comes within six feet of another band. It's a subtle way to remind attendees to stay apart. An added bonus? The wristband records all physical interactions with other bands, making it a useful tool should contact tracing become necessary. The bands are priced at $100 each.
Another wristband concept comes from CrowdSync Technology , which recently debuted SafeBands: an LED color-coded bracelet system that indicates a person's comfort level in regard to socializing and social distancing. Green implies that a person is open to face-to-face interaction; yellow indicates that interaction is suitable when necessary; red signifies that a person wants all interaction to happen in a socially distant manner. The bands have a 12-hour battery life and can be customized with logos and other branding.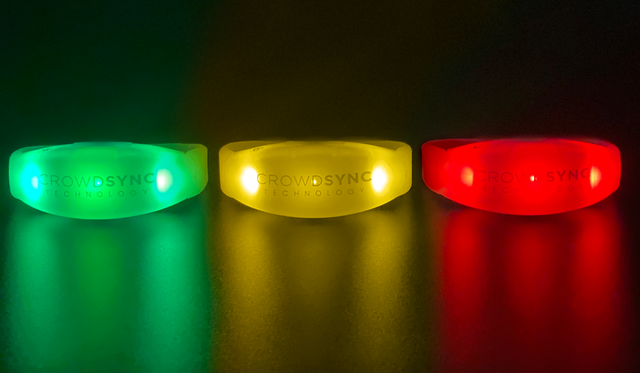 CrowdSync Technology offers SafeBands, an LED color-coded bracelet system that indicates a person's comfort level in regard to socializing and social distancing.Photo: Courtesy of CrowdSync Technology
At conferences and other large events, one way to keep attendees apart is by giving them individual chairs and tables they can stick with for the duration of the event. Consider renting chairs with built-in power supplies to avoid having guests cluster near an outlet. Rental companies like CORT Events offer sofas, chairs, and tables with built-in outlets. "Use slightly bigger chairs to make it almost like a destination for that conference attendee," suggests Jack Scafide, CORT Events' Midwest district account executive. "Think of this as their 'owned space' for the duration of the conference—that way you don't have to worry about disinfecting it at the end of each night [of a multiday event]."
Related: 8 Power-Equipped Furniture Items for Rent
Another option for preventing crowding? Scanit , which allows consumers to interact with digital billboards, television screens, and other forms of print media from up to 60 feet away—meaning guests can gather crucial event information or interact with trade show booths while still keeping their distance. The tech uses Direct Response Video (DRV) codes, which are similar to QR codes in that a guest scans a unique code through their smartphone's camera, which will then direct them to some specific action, like bringing them to a website or dialing a phone number.
"Social distancing is going to be a part of our lives for the foreseeable future, even as we begin to move back toward in-person events. … "Scanit can give brands that offer information virtually an easy way to direct customers to a website or sign-up form," notes Scanit CEO and co-founder Wayne Steidle. "I believe Scanit and other technology that encourages social distancing will be essential in giving people peace of mind about live events. These will allow visitors the chance to mingle and learn more at their comfort levels, as well as expand virtual options for those that want to participate from afar."
5. For pre- and post-event disinfection
Some tech can even help with sanitization. In October, Israel-based lighting company Juganu debuted J.Protect, a circadian lighting system designed to disinfect entire rooms. The system used a combination of high-quality surface light mixed with ultraviolet A (UV-A), as well as ultraviolet C (UV-C) light to inactivate bacteria and viruses—including SARS-CoV-2, the virus that causes COVID-19. It has two modes, one that's safe to use while people are present in the room, plus a stronger one that can disinfect a room in minutes after guests leave. The product, backed by Comcast Ventures, is currently EPA-registered in 47 U.S. states.
"Smart lighting will be one of the biggest areas of opportunity for physical spaces. We are evolving from lights simply illuminating spaces to disinfecting and securing them, as well as promoting well-being by recreating natural light shifts based on sunrise and sunset," says Eran Ben-Shmuel, CEO and co-founder of Juganu. "With J.Protect, we hope to be the light at the end of the tunnel of the COVID era."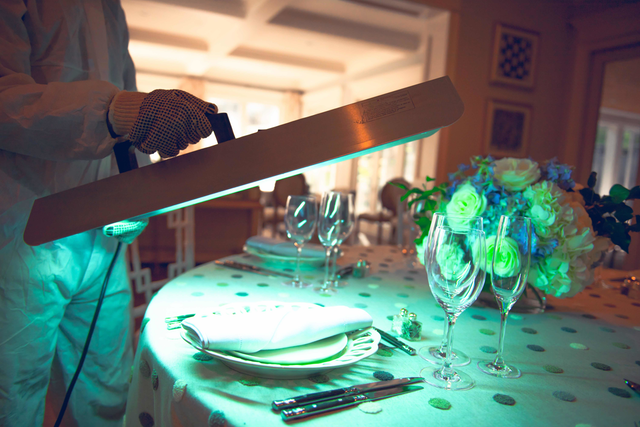 As part of Perfect Settings' new menu of sanitation-focused offerings, hand-held decontamination wands can be rented for cleaning surfaces such as countertops, seats, bars, tables, and more.Photo: Surpasss Visuals
For sanitizing smaller areas, event rental company Perfect Settings has debuted new hand-held decontamination wand services. The wands use chemical-free UVC light devices designed to kill viruses and surface microorganisms on everything from tabletops and bars to seating, silverware, and more. The company is using the wands to sanitize its own equipment and also offers the devices for rent.
https://www.bizbash.com/production-strategy/event-management-tech-tools/article/21201542/15-tech-tools-that-can-help-bring-back-live-events